Excavating Company Southern MD Mechanicsville St Mary's County
Site Development Work
Home Demolition/Wrecking Ball
Recycled Asphalt and Bluestone Driveways
Footers, Basements, Pools, Ponds Dug
Storm Water Management/Drainage Issues
Aggregate Delivered
Land Cleared
Call
We Invite You to Fill Out the Form Below
Guy Excavating LLC located in Southern MD
Located in Mechanicsville Md our family has been in the Excavating business since 1962. We are a second generation business, serving all of Southern Md for their Excavating needs.We do site work for barns and new home construction, tree removal service, hurricane damage cleanup, waterproofing basments, home demoliton and wrecking ball work, recycled asphalt and bluestone driveways, new and existing home excavating work, digging basements, pouring footers, water drainage correction, topsoil, bankrun, and gravel delivery, and land clearing. Please feel free to navigate our website, and find out what makes us different with our Excavating work. We serve all of Southern Md with excavating services in St Marys County, Charles County, Calvert County, Mechanicsville, Leonardtown, Lexington Park, Hughesville, Lusby, Solomons Island, Prince Frederick, Dunkirk, Huntingtown, Waldorf, Laplata.
Services We Offer
Grading and smoothing soil
Cutting and Filling Dirt
Septic Installation
Foundation Excavation
Prepping Land for House Construction
Site Works
Digging for Roads, Sidewalks, Pipes
Land clearing
Above Ground Pool Leveling
Demolish pre-existing structures
Dirt and Debris Hauling
Driveways
Surface and underground drainage
Yard Sloping
Catch Basins and Storm Drains
French Drainage Systems
Complete Dirt Moving Services
Dump Truck Hauling
We Invite You to Fill Out the Form Below
Home Demolition
The demolition of a home can mean many things for different people. You may be excited to build your new home in Calvert County, Maryland which means out with the old, in with the new! Or demolition could mean something a bit more inconvenient… Maybe the house you have lived in for decades is rotting from the inside out… and it is causing you exorbitant amounts of repairs! After counting the cost, you may find that the price of the repairs would exceed the value of the home.
If a house has been deemed 'uninhabitable' then the repair costs will be significant! The cost it takes to demolish the home may be less than what it would take to repair the condemned structure to become worthy of living in again. This is where your homegrown Southern Maryland Excavating company comes in! Guy Excavating has a total of 58 years of experience, serving Southern Maryland, including locations like Mechanicsville and Hollywood!
Another reason for demolition… and no one likes to talk about this one… is if a house has become infested with vermin. Rats, termites, bees, bats and other critters have been known to take over homes that have sat for years, making the house completely and utterly useless.
But if you are building a custom home for yourself, perhaps in St. Mary's County, Maryland, you may need an Excavating team to demolish the house and clear land for building. It may be in your best interest to buy a property that already has a home on it and then demolish the house before building.
In a different scenario, you could be selling a plot of land in Mechanicsville, Maryland, but you know that a clean piece of property will attract buyers more than a rickety old house from the great depression era. Although you have not rebuilt on the land, the attractive, clean lot could actually bring in a profit from the demolition work, in comparison to what it would have yielded with a dilapidated house.
What You Need to Know About Land Clearing
Do you have a major construction project in Calvert County or a different location in Southern Maryland on your upcoming schedule? Then you will need to know what to expect from your land clearing contractor. Long before the footers of the foundation can be dug, your land needs to be cleared from trees, brush or debris that could be within the property lines. After the lot has been cleared, then your Contractor can 'grade' the land. This essentially means that he levels the dirt with heavy equipment like a bulldozer or backhoe, making sure that there is a slight fall in grade going away from the house. It also means that he complies with any direction from the county regulators as to where storm water will be diverted to.
The amount of time it takes to clear land really depends on the project. After your surveyor has laid out his marks, then the excavating services can come in and get your land to a point where it can be built upon. It begins by clearing away any rocks or vegetation on the building location, leaving any trees that the homeowner has requested to leave in place. However, it is good to remember that even if a tree isn't really in the way, depending on the type of tree, it's root system can become an issue years down the line if too close to the foundation, crawl space or the septic system.
Don't forget! Land Clearing is also a necessary first step if you are going to put in a new pool, green house, shed, garage, garden, pasture or if you are planning on laying out new farmland. Guy Excavating is happy to clear your land of obstacles all throughout Southern Maryland, including St. Mary's County, La Plata and Prince Fredrick!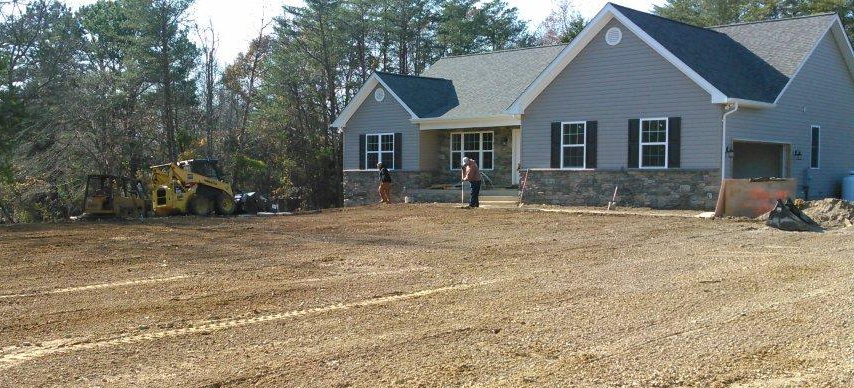 Site Work
What is Site Work? So you are building a house in Calvert County, Maryland and you are at a meeting with your General Contractor… He says before we build your house, we need to hire a contractor to do the preliminary 'site work'. You think to yourself… what does 'site work' entail? Site work is essentially the part of a construction project that is not part of the building of the house's physical structure. It is the preliminary work to prepare a construction site for building. It is an early and essential part of the construction process and usually involves things like, grading, driveways and other utilities. Excavation always requires extensive use of large heavy equipment to get the job done right. Site Work is an important part of the excavation process to ensure that the construction site is stable and safe for all the workers who will be working there.
The definition of site work also includes things such as the preparation of the structure's foundation and land clearing. Rough grading, Final grading and landscaping would also fall under the topic of site works. The excavating and paving of driveways or walkways are also included. Subgrade Stabilization, another aspect of site works involves making sure that all the soil levels that are beneath the topsoil are stabilized. This makes it so that the ground beneath your house or other building will not cave or shift in any way. Without proper site work, the building could end up having major foundational or structural damage, such as cracks in the concrete.
In St. Mary's County, Guy Excavating has had the opportunity to do site work on hundreds of acres of property for many Maryland homeowners. We are happily serving towns and cities all over Southern Maryland, including Hollywood and Mechanicsville! Give us a call for all of your site work needs!
We Invite You to Fill Out the Form Below
Areas in St. Mary's County We Cover
Charlotte Hall
Mechanicsville
Chaptico
Morganza
Avenue
Leonardtown
Hollywood
California
Lexington Park
St. Mary's City
Piney Point
St. Inigoes
Ridge
Scotland
Solomons
Loveville
Clements
Maddox
Bushwood
Abell
Compton
White Point Beach
Drayden
Tall Timbers
Areas in Calvert County
Huntingtown
Dares Beach
Prince Fredrick
St. Leonard
Lusby
Port Republic
Barstow
Adelina
Broomes Island
Johnstown
Areas in Charles County
Waldorf
St. Charles
La Plata
Hughesville
Dentsville
Bryantown
Water Drainage Issues
As a Homeowner in Southern Maryland, you no doubt have heard horror stories of what can happen to a home without proper water drainage around your house. It is vital that any water drainage issues be addressed since improper drainage can lead to problems with the foundation of your home. Concrete surfaces and pavers can shift and move when they are set on moist soil, eventually causing cracks.
Along with cracks in the foundation… water leaks, a flooded basement and mold in your home could spell a headache for you and your family! Along with these problems, standing water around your house can attract mosquitoes and other pests. Soil that is too moist can also cause the growth of fungus and other diseases that can wreak havoc on your lawn or the trees around your property.
Water Drainage problems can be fixed with better grading of your property, or the use of underground trenches, above-ground trenches, and even with the introduction of certain plants and vegetation. Guy Excavating is happy to help you with any of your water drainage issues, reshaping the land around your house to fix all of your water problems!
Basement Waterproofing
Do you live in St. Mary's County and have a wet basement that is smelly moldy and musty down there? Guy Excavating can help you by waterproofing your basement! They are careful to keep your foundation in good shape and protected from the heavy machinery.
We can install a waterproof membrane or a waterproof coating to keep water from protruding into your basement. Coatings for basement waterproofing made from a thick tar can be applied by brush or spray. In other scenarios, a tar like substance or membrane is not necessary, but filling the void with gravel is all that is needed. The process involves excavation around the exterior of the existing building, then applying the treatment, and then backfilling.
When you think about the benefits of having a dry basement, the intensive work is certainly worth it. Just think about how instead of using your full basement for boxes and storage, you can use it as a recreation room, or a man cave! But you'll never make that move if it is damp, humid and wet. Let us help you transform your basement into a home below your home!
For years Pat Guy and his team have been waterproofing basements all throughout Southern Maryland, including places like Hollywood, Mechanicsville, St. Mary's County and Calvert County! Give us a call today!
Hurricane Storm and Damage Clean Up
Maryland has seen it's fair share of Hurricanes, Tornadoes and Severe Thunderstorms. And during Hurricane season, homeowners across Southern Maryland are at risk of major home damage. Flooding, Fallen Trees and other potential issues can cause damage that needs to be dealt with quickly and effectively to protect the belongings within your home.
Who do you call when a tree has fallen on your house? The guy with 7 Chainsaws, fresh chains, and an excavator for picking it up gracefully off your house! That guy is PAT Guy!
Pat has seen many storm in his life and services his community by picking up after those storm. It is a true skill to carefully and efficiently run a chainsaw to clean up a lot after a storm, and Guy Excavating has that experience!
Recycled Asphalt and Bluestone Driveways
Red Dirt Roads are what make Southern Maryland "Country". But it doesn't keep your truck clean… You've always wanted an asphalt driveway, but it's very expensive. Not only that… but all those potholes are going to make you have to upgrade your truck's suspension!
A great alternative that is not only inexpensive, but endures over the years is a Recycled Asphalt Driveway or a Bluestone Driveway. Having these stone options will fix your water issues in your driveway that have been causing you so many headaches. And having a load of Recycled Asphalt or Bluestone is just a matter of a quick delivery and Guy Excavating pops the tailgate, slowly driving away… allowing the gravel to spread over your pothole-laden driveway.
If you live in St. Mary's County, Calvert County or anywhere else in Southern Maryland and you have a pothole filled road… call up Guy Excavating today! They service everywhere from Waldorf to Leonardtown… Huntingtown to La Plata!
Footers Dug and Foundations Poured
Your plans are complete and you have purchased your property! No doubt, you are ready to finally get started on the construction of your new home! Your hopes and dreams are tied up into this new home. What can you do to make sure that you have a home with a solid foundation? As you build your new home in Southern Maryland, you plan with a top down approach, and build from the bottom up! We are the beginning of your construction project! Let us dig the foundation or footers of your home. With 57 years in the business, there will be no corners cut when it comes to how your basement is put in the ground. No matter how big the house, we can make sure you have a solid foundation so that you can start your family's life on a solid footing!
No matter what Excavation needs you have, Guy Excavating can help you out! Whether it is Clearing Land for your new lot, digging the foundation for your new home, or preparing your home for the next chapter of it's life, our family at Guy Excavating can give you the support you need to make your house a home. Give us a call at 301-884-3922 for a free quote on your next construction endevour. Don't forget… When you call… We will move the earth for you! And remember… We Can Dig it!
About Us